Written by notmartha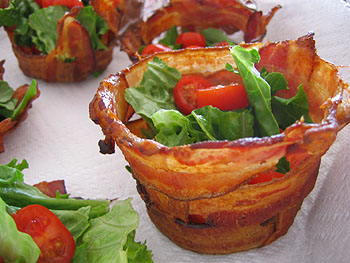 I had an occasion calling for bacon themed food and my mind immediately turned towards the famed bacon mat. I needed something a little more single-serving though, so I decided to attempt bacon cups. In the bacon mat instructions there is mention of draping the mat over an overturned metal bowl and cooking it so that it would turn out in as a bowl shape. I decided to try using the backs of various muffin and mini cake pans, I ran out of bacon before I got to try as many as I would have liked so I'll have to try more at a later date. Any excuse for more bacon.
I set the oven at 400 degrees and carefully formed foil over the back of the muffin pan. I did not coat with cooking spray, it would have been easier to remove but I suspect that the bacon would not have held the form as well if the foil was oiled and would have popped apart half way through cooking. On the other hand some bacon did break when I was peeling away the foil. I cooked the bacon, moving the pans around, until it was crisp looking and waited for it to cool before removing the foil and shaped bacon.
This all took three hours and my house filled with smoke, but it was worth it. Be sure to put a cookie sheet with a rim below the cooking bacon in the oven, there was a lot of dripping fat and I saw a few flames. Watch your oven carefully!
For cup shapes I used the back of this Wilton King-Size Muffin Pan. These are the width of jumbo muffins but are almost twice as tall (see this cupcake for a visual).
For the first try I used two layers of bacon on the sides and wove it like a basket, or at least like I imagine a basket would be woven: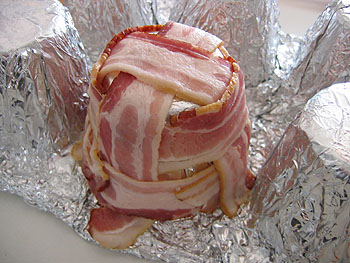 I turned out to not be enough after the bacon cooked and shrank: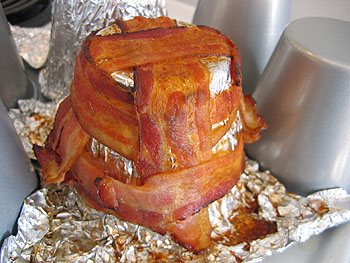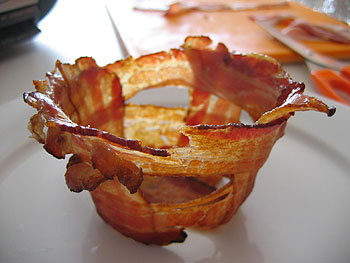 It held its structure very well though: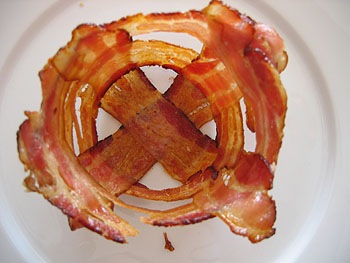 The next time I used three layers of bacon on the sides, this worked out better: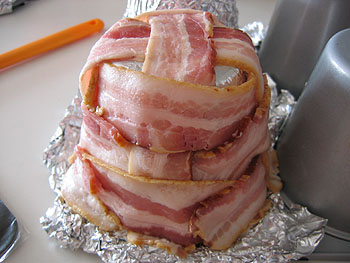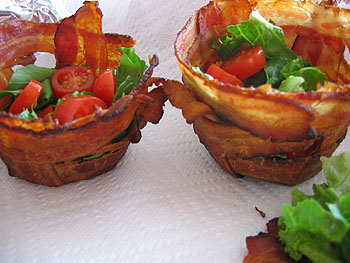 For as floppy as the bacon is when trying to weave it, it keeps its shape really well once cooked to the point that it is crisp.
I also tried to make small round bowls using the back of a Betty Crocker mini filled cake pan.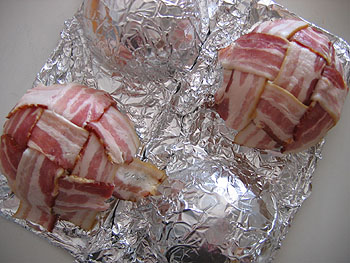 It shrank up quite a lot, leaving more of a shallow rounded shape: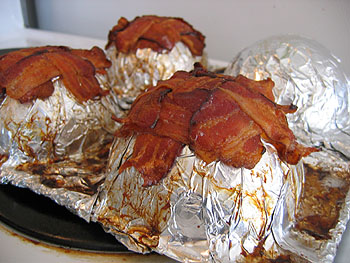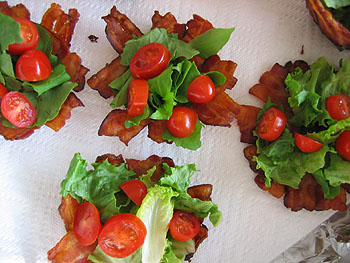 Going for a breadless BLT I filled the cups with lettuce (the arugula was the best) and sliced cherry tomato. After some serious investigation it was determined that the shallow bowls were the easiest to eat as finger food, while the cups were dramatic.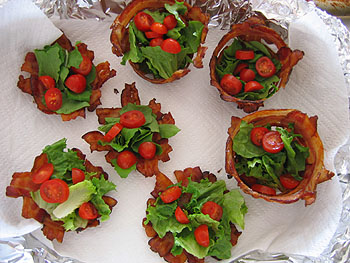 I had hoped to make a mayo-based salad dressing to really fill out my the BLT theme but I completely ran out of time. Overall, a success!